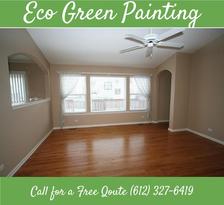 (612) 327-6419 or Andrew@GreenPaintingMN.com
To secure this deal book by June 6th 2016. Either fill out contact information below or call Andrew at (612) 327-6419

Paint Special $99 per room for up to two rooms per address. (Customer supplies own paint with 2 coat $99 deal). This is a savings of $100 off our regular price of $199. See full details below.Details: Rooms up to 12' X 12' large or 48 linear feet up to 9 feet high. Deal includes painting 2 coats on walls only. Painting ceilings, trim, and inside closets are extra. Customer supplies paint. Must use paint from Sherwin Williams or Hirschfield's. Extra protection cost for any home that contains lead. Extra charge of $1.50 per mile over 25 miles from zip code 55431. Subject to availability and Eco Green Painting retains the right to reject any job. Not to be combined with any other offer or jobs or that have been deemed emergency or need to be done ASAP.-$500,000.00 Liability Insurance-License Contractor BC679240 Eco Green LLC/DBA Side Appeal(612) 327-6419 or
Andrew@GreenPainitngMN.com
---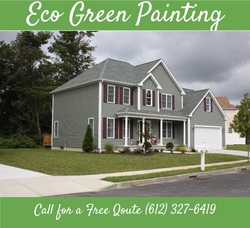 "Quality Painting, Environmentally Friendly Painting"

Eco Green Painting's purpose is to provide quality painting service to the Twin Cities. Based in Bloomington, MN Eco Green Painting, owned by Andrew Robinson, has been painting for the last 15 years. Over the last decade, Andrew's goals have been to provide high-end, quality painting at the same time caring for the environment at an affordable rate for the customer. Our statement "When you are happy, we are happy" is more than just words. It is the mission of our business.

Our painting staff provides all year round service in the Minneapolis, Minnesota and surrounding areas. You can expect a quality interior painting job all year round by professionals that paint for a living, and provide exterior painting projects when the weather is warm enough and not predicting rain within the next 24 hours. We work with all types of paints including latex and oil based, keeping caring for the environment in mind.

We can provide color matching, and picking the right colors with charts and experience in making a home beautiful. Choosing the right color is an important decision that can change the mood of room. We work with color sample sheets that give you a full range of choices so you can find what is right for your home.

Our job is to make a room stand out. A quality painting job can make or break the room, and our goal is to bring your painting dreams into reality. Through our painting systems, we will make that room so you can enjoy it for years to come. We love painting Bloomington, Minnesota!

---